Insurance Tips
by Jimmy Harvey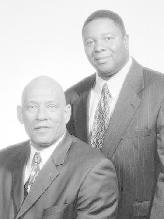 Jimmy Harvey & Burt F. Gunter (910) 822-7555
Q:
Is there anything different about women's business financial needs?
A: Yes. Here are a couple of differences:
Women live longer, so their money has to last longer. According to the National Center for Health Statistics (2005), women live an average, of 5.4 years longer than men. Unfortunately, women still trail men when it comes to saving for retirement, according to the AARP magazine (2005).
The good news is that women are going into business for themselves at a faster rate than men. Between 1997 and 2002, the number of women-owned businesses grew by 17%—twice the rate of all firms—according to the Center for Women's Business Research (www.nfwbo.org). Women now own nearly half (48%) of all privately held businesses.
As a woman business owner, you control your own destiny—you can open a retirement account and have an opportunity to save even more for retirement than salaried employees, on a tax-advantaged basis.
Q:
I am 53 and have a one-man dental practice (my wife is my receptionist) and have not yet put away anything for retirement. How can I maximize the amount I can put away over the next few years?
A: There are several choices in retirement plans that can help an older person maximize retirement contributions. Since you have an owner-only business, you qualify for an Owners 401k, which allows you to contribute up to $42,000 plus $4000 if you are over age 50, in 2005. You have the same contribution limits with a SEP but, depending on your income, may be able to contribute more to the Owners 401k. Another possibility is a defined benefit plan, which could enable you to receive benefits up to $170,000 in 2005, depending on your age and income. In addition to qualified plans, other possibilities include non-qualified deferred compensation and annuities.
Q: Why would my business need key person insurance?
A: Insuring a key person can help a company survive by minimizing the organizational loss and fiscal strain that follow the death of a key employee, such as an owner or a top salesperson. Key person insurance helps meet the costs of replacing and recruiting a key employee. Business loans—which may be callable when a key person dies—can be paid off and the business can maintain its access to credit. Merely having key person insurance in force can make it more likely that a bank will lend money to a business.
Key person insurance can also help prevent the dissolution of a business. The proceeds can be used to repurchase stock, so that a partner can buy out a deceased partner's share. Life insurance proceeds can also help offset the future loss in revenue that will probably occur, at least temporarily, when a key person dies.
Q: How can I plan for the future of my business and my family?
A: The most valuable asset of most business owners is their business. But many owners fail to include the business in their estate plan. Some businesses can be sold, some can be passed on to others—employees, partners or family members. There needs to be a way to liquidate your share for the benefit of your heirs. Another consideration is to protect the business from a principal's untimely death or disability, so that it can continue to operate and provide income until a successor is in place.
An estate plan funded by life insurance for your business can:
• Establish a business continuation plan that can help provide for you and your heirs
• Meet your objectives for asset distribution
• Minimize estate taxes
In addition, you may be able to set up, through your business, life insurance benefits for yourself and other key employees that could help ensure your family's future security while also benefiting the business.
GE-33720 (09/05) (Exp.09/07)

Jimmy Harvey offers securities through AXA Advisors, LLC (member NASD,SIPC) 3274 Rosehill Road, Fayetteville, NC 28301 and offers annuity and insurance products through an insurance brokerage affiliate, AXA Network, LLC and its subsidiaries.
The Fayetteville Press Newspaper, Inc. * JJ Jones - Publisher
Web Hosting powered by Network Solutions®